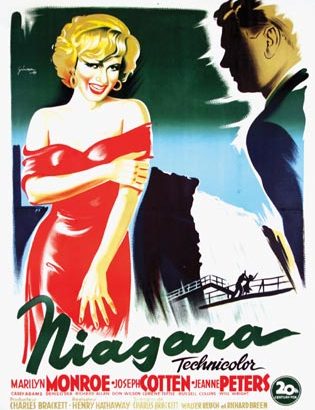 Posted: 17 March, 2011
Comments: No comments
The collection in use
"Niagara" directed by Henry Hathaway
"George Loomis (Joseph Cotten) and his wife Rose Loomis (Marilyn Monroe) vacation at a motel near Niagara Falls. Their relationship rapidly deteriorates. They meet neighbors Ray Cutler (Max Showalter) and Polly Cutler (Jean Peters) who are honeymooning in the next room. Polly discovers that Rose has a lover, Patrick (Richard Allan), but she is unaware that they both have a plan to get rid of George.
Taken from Wikipedia.
See also:
http://www.alohacriticon.com/elcriticon/article5173.html
http://www.imdb.com/title/tt0046126/
http://www.epdlp.com/director.php?id=798
The selected titles are a sample of the recently loaned International Institute Library materials.
If you are interested in seeing or reading this recommendation, you can check its availability in the IIE library catalog.
Niagara = Niagara. [DVD] / directed by Henry Hathaway. — Madrid: Twentieth Century Fox Home Entertainment Spain, [2002]. — 1 DVD (85 min.): son., col. — (Marilyn Monroe: The diamond collection; 0513809).
Languages: Spanish, English…and others; subtitle : Spanish, English…and others
Title orig.: Niagara
Marilyn Monroe, Joseph Cotten, Jean Peters
Not recommended for children under 13 years
ZW .H38 N5318 1953