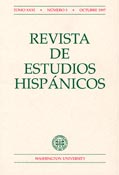 Posted: 12 April 2011
Comments: No comments
New issue received from: JOURNAL OF HISPANIC STUDIES (Volume XLV, No. 1. March 2011)
Summary of this issue:
CONTENTS
*Burnt Poems: Virgilio Piñera and the Community of Critical Exchange. Francis Fernandez Medina
*A Literature of Exhaustion: Cuban Writing and the Post-"Special Period". Esther Whitfield
*Je m'abreuve d'eau de coco à la glace et d'ananas. The culinary contexts in Havana of the countess of Merlin. Rita DeMaeseneer
*The Consequences of Capitalism: Horacio Quiroga Writes the Proletariat. Bridgette Gunnels
*Scripts for Modern Mothers: Representations of Motherhood in Delfina Bunge and Alfonsina Storni. Martha Sierra
*Visions of the Lewd: The Latent Presence of the songs of derision in the Miniatures of the Songs of Santa Maria. Ana Isabel Montero
*Atomism and the Feminine Ideal in Ángela Grassi's The snowflake. Nicolas Fernandez-Medina
*Women, Mysticism and Alternative Technologies of the Self in Selected Writings of Emilia Pardo Bazán. jennifer smith
*Unamuno's Saint Manuel Bueno, martyr: Philosophical Skepticism in a Time of Political Upheaval. brian cope
Previous summaries in Dialnet.
See also page magazine website.
See available numbers in the International Institute Library