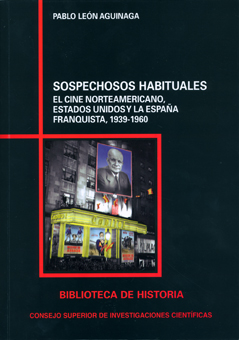 Posted: 15 April 2011
Comments: No comments
Presentation of the books "Usual Suspects" and "Antidote against anti-Americanism?"
Next Monday, April 25 at 19:30 p.m. The International Institute will host the presentation of the books "Usual suspects: North American cinema, the United States and Francoist Spain, 1939-1960" and "Antidote against anti-Americanism? American Studies in Spain, 1945-1969".
Pablo León Aguinaga (author of the first title), Francisco J. Rodríguez Jiménez (author of the second title) and Lorenzo Delgado Gómez-Escalonilla will intervene as moderator.
Admission is free until full capacity.