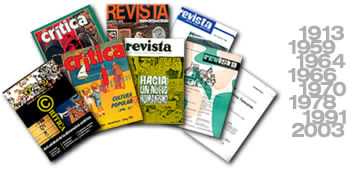 Posted: 28 April 2011
Comments: No comments
New number received from: Crítica (year LX, nº972. March-April 2011)
Summary of this issue:
EDITORIAL
*Education is not neutral. Manuel Aguilera
FROM MONTH TO MONTH. Nevis Saint Martin
NEWS
* Will it be the end of the world? Carmen Fernandez Aguinaco
MONOGRAPHIC
* Transformative education of social reality. mercedes blanchard
* Transformative education in contemporary pedagogy. Ana Yuste
*School and education for social transformation. Immaculate Egido
*Education and poverty. John Manuel Moreno
*The right to education. Yusta Aguilar
*Cooperative learning. carmen lopis
* Socio-educational Tables: a proposal for local participation for the benefit of citizens. Monica Jimenez
*What are we talking about when we talk about service-learning? Roser Batle
OPINION
* The right to education: a pending struggle internationally and in Spain. Valeria Mendez Vigo, Javier Eraso
*Education and Human Rights. Ivan Forero
*Inclusion, a social and educational challenge. mercedes blanchard
USEFUL ADDRESSES. Esther Gonzalez.
COORDINATES
* Educate for employment today. Luis Mº López Aranguren
DECALOGUE
*The other apprenticeships. Joaquin Suarez Bautista
BOOKS
* Around the literary prizes. Planeta Award 2010, Catfight, Eduardo Mendoza. Nadal Award 2011, Where no one finds you, Alicia Giménez Bartlett. Mary Simon.
*Youth and adults with behavior problems. Development of social skills. Manuel Segura. Virginia Fernandez Aguinaco
*We want bread and roses. Emancipation of women and Christianity, Lucía Ramón. canyon road
THEATRE
*The night of the theaters. Javier Lopez
*On January twenty-sixth it opened its doors. Mary Jesus Ramos
CINEMATOGRAPHY
* Black Swan, a world according to Barney. Cecilia Garcia
TV
*Infosication. Virginia Fernandez Aguinaco
ART
*The MACBA museum in Barcelona, ​​an unmissable date with contemporary art. Francisco Vincent Galdon
See also magazine website