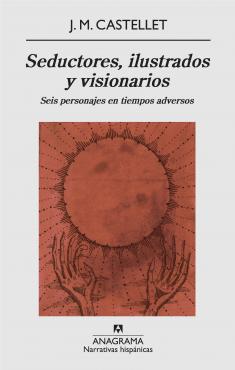 Posted: 29 April 2011
Comments: No comments
The collection in use
"Seductive, enlightened and visionary: six characters in adverse times" JM Castellet
"Josep M. Castellet offers us a vision of six characters, «all personal friends and companions of literary or cultural adventure for many years», in the adverse times of the dictatorship. Manuel Sacristán, Carlos Barral, Gabriel Ferrater, Joan Fuster, Alfonso Carlos Comín and Terenci Moix, who over the years became prominent figures in Catalan and Spanish cultural life in the second half of the XNUMXth century, are the protagonists of Seductores, Illustrated and visionaries, although Castellet also offers us some clues to his own portrait by intertwining his biography with that of others."
Taken from Anagram.
See also:
http://www.elboomeran.com/obra/658/seductores-ilustrados-y-visionarios-seis-personajes-en-tiempos-adversos
http://www.elcultural.es/noticias/LETRAS/1082/Fragmento_de_Seductores_ilustrados_y_visionarios
http://es.wikipedia.org/wiki/Josep_Maria_Castellet
The selected titles are a sample of the recently loaned International Institute Library materials.
If you are interested in seeing or reading this recommendation, you can check its availability in the IIE library catalog.
Seductive, enlightened and visionary: six characters in adverse times / JM Castellet; Translation by Rosa Alapont. — 1st ed. — Barcelona: Anagrama, 2010. — 279 p.; 22cm — (Hispanic Narratives; 479).
DL B 32949-2010—ISBN 978-84-339-7218-7
PC3904.C37 2010
R. 97616