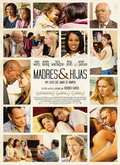 Posted: 5 May 2011
Comments: No comments
The collection in use
"Mothers & daughters" directed by Rodrigo García
"A portrait of the choices made, the opportunities missed and the power of the unbreakable bond between mothers and daughters."
Extracted from the back cover.
See also:
http://peliculas.labutaca.net/mother-and-child
http://www.elperiodico.com/es/noticias/cultura-y-espectaculos/20100702/rodrigo-garcia-vuelve-universo-femenino-madres-hijas/360430.shtml
http://www.imdb.com/title/tt1121977/
http://es.wikipedia.org/wiki/Rodrigo_Garc%C3%ADa_Barcha
The selected titles are a sample of the recently loaned International Institute Library materials.
If you are interested in seeing or reading this recommendation, you can check its availability in the IIE library catalog.
Mothers & daughters = [Mother & child]. [DVD] / a film written and directed by Rodrigo García; produced by Alejandro González Iñárritu. — Barcelona: Vértice cine, DL 2010. — 1 disc (DVD) (125 min.): Son. cabbage.
Languages: English, Spanish, Catalan; subtitles: spanish, catalan
Naomi Watts, Annette Bening, Kerry Washington, Jimmy Smiths, Samuel L. Jackson
DL B 37709-2010
ZW.G372 M618 2009