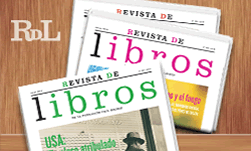 Posted: 13 May 2011
Comments: No comments
New issue received from: Book Magazine (nº172. April 2011)
Summary of this new issue:
HISTORY
*Emilio Saenz-French, Between the torch and the swastika. Franco at the crossroads of World War II.Enrique Moradiellos
*Angel Viñas and Fernando Hernández Sánchez, The collapse of the Republic. Pablo de Azcarate, In defense of the Republic. With Negrín in exile.Angel Viñas (dir.), At the service of the Republic. Diplomats and Civil War. Manuel Alvarez Late
*Santos Juliá, Julián Casanova, Josep Maria Solé i Sabaté, Joan Villarroya and Francisco Moreno, Victims of the Civil War. Julian Casanova, Francisco Espinosa, Conxita Mir and Francisco Moreno, Die, kill, survive. The violence in the dictatorship of Franc.Peter Anderson, The Francoist Military Trials: Terror and Complicity, 1939-1945.Francisco Espinosa, José María García Márquez, Pablo Gil Vico and José Luis Ledesma, Red and blue violence: Spain, 1936-1950. Julius Ruiz
POLITICAL THEORY
*Climate change policy. Manuel Arias Maldonado
*Martin Caparros, Against change. Manuel Arias Maldonado
*Victoria Camps (ed.), Democracy without citizens. The construction of citizenship in liberal democracies. Marco Vinicio Agullo
SOCIOLOGY
*Nicholas A. Christakis and James H. Fowler, Connected.Juan Antonio Rivera
PHILOSOPHY
*Paul Veyne, Foucault. Thought and life.Luis Arranz
* Juan Pimentel, The rhinoceros and the megatherium. Juan Pardo Tomas
*Thomas Scanlon, Moral Dimensions. Permissibility. Meaning, Blame
BIOGRAPHIES
*Franziska Augstein, Loyalty and betrayal. Jorge Semprún and his century.Javier Ruperez
*Loving Miguel, Memories and vents. Xavier Pericay
THEOLOGY
*Benedict XVI, Light of the world. The Pope, the Church and the signs of the times. A conversation with Peter Seewald. Olegario Gonzalez de Cardenal
*Benedict in Great Britain. Henry Bansbrough
AMALIA LETTERS
*About the new Army Museum. Fernando Eguidazu
THE NARRATOR'S LOOK
*Tobias Wolff, Back to the world. Jose Maria Guelbenzu
LITERATURES
*Tennessee Williams: the poetry of vulnerability. Hugo Estensorios
*Maxim Gorky, Memories of Tolstoy, Chekhov and Andreyev. livi, The impatient husband. Romain Rolland, Tolstoy's life. Liev N.Tolstoy, Memories: childhood, adolescence and youth.Tatiana Tolstoy, About my father. Jay Parini, The last station. james womack
POETRY
*Miguel Married, The foreign experience. Essays on poetry. Eduardo Moga
*Luis Albert of Cuenca, The white kingdom. Angel Luis Lujan
SPANISH LITERATURE
*Francisco Ferrer Lerin, Families like mine. Sergio Doria
*Ana María Matute, The door of the moon. Complete stories. nick castor
*Martha Sanchez, Black, black, black. Max Gurian
Previous summaries in Dialnet
See also magazine website.
See numbers available in the Library of the International Institute.