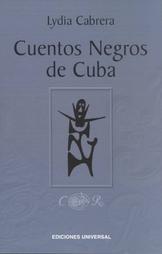 Posted: 16 May 2011
Comments: No comments
The collection in use
"Black Tales of Cuba" by Lydia Cabrera
"In this work the author transcribes and collects for sheer delight the set of black legends of Havana. These are Afro-Cuban stories that, although full of fantasy, are not only religious. Most are animal fables. Others are of human characters in which mythology enters secondarily."
Extracted from the back cover.
See also:
http://www.mauroyberra.cl/contenido/Bartolome/columnaramona/archivos/Lydia%20Cabrera.pdf
http://www.circulodeculturapanamericano.org/bibliografia_sub_pgs/LYDIACABRERA.htm
http://es.wikipedia.org/wiki/Lydia_Cabrera
The selected titles are a sample of the recently loaned International Institute Library materials.
If you are interested in seeing or reading this recommendation, you can check its availability in the IIE library catalog.
Black stories from Cuba / Lydia Cabrera; prologue by Guillermo Cabrera Infante. — Barcelona: Círculo de Lectores, DL 1996. — 178 p. ; 22cm — (Universal Library. Modern Hispanic Masters).
DL B 613-1996—ISBN 84-226-5499-7
PQ 7389.C22 C8 1996
R. 76718