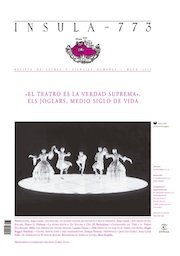 Posted: 6 June, 2011
Comments: No comments
New number received from: Insula (nº 773. May 2011)
Summary of this issue:
*Presentation. Anna Corral Fulla
*The 50-year sediment from Joglars. Reflections on the theater. Albert Boudella
*Els Joglars: "A most sustaining and highly expressive playful allegro" Anna Corral Fullá
*The exiles of Els Joglars. Sharon G. Feldman
*Political satire: Els Joglars and "Ubú" Jill Buckenham
* "Controversy of the Bull and the Torero": A defense of the essential theater. Lourdes Orozco
*"2036 Omena-G": a journey through time with irony. Magda Ruggeri
* Theater, provocation and ten commandments. Enrique Herreras
*Interview with José Luis Gómez. Anna Corral Fulla
Previous summaries in Dialnet.
See also magazine website.
See numbers available in the Library of the International Institute.