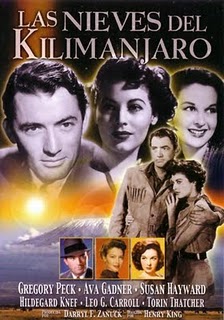 Posted: 8 July 2011
Comments: No comments
The collection in use
"The Snows of Kilimanjaro" directed by Henry King
"Harry Street (Gregory Peck) is a writer who has been seriously injured in a hunting accident in Africa. He is lying on his bunk at the camp set up near the slopes of Mount Kilimanjaro. In his feverish fits he remembers his past and how he lost the woman he loved the most (Ava Gardner) and now she is dead."
Taken from Wikipedia.
See also:
http://www.alohacriticon.com/elcriticon/article931.html
http://www.tcm.com/tcmdb/title/90638/The-Snows-of-Kilimanjaro/videos.html
http://www.imdb.com/title/tt0045162/
http://es.wikipedia.org/wiki/Henry_King
The selected titles are a sample of the recently loaned International Institute Library materials.
If you are interested in seeing or reading this recommendation, you can check its availability in the IIE library catalog.
The snows of Kilimanjaro. [DVD] / director, Henry King. — Colmenar Viejo (Madrid) : Suevia Films, [200-?]. — 1 DVD (114 min.) : son., bl. and n.
Title orig.: The snows of Kilimanjaro
Based on a story by Ernest Hemingway
Languages: English, Spanish; subtitle : Spanish Portuguese
Gregory Peck, Susan Hayward, Ava Gardner
Authorized for all audiences
ZW .K56 S6618 1953