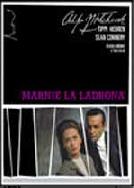 Posted: 14 July 2011
Comments: No comments
The collection in use
"Marnie the Thief" directed by Alfred Hitchcock
"1964 film directed by Alfred Hitchcock and starring Sean Connery and Tippi Hedren as its leads. Based on Winston Graham's novel of the same name, this is a psychological thriller with a decidedly sordid treatment of sexuality, especially female sexuality, as characterized much of Hitchcock's work.
Taken from Wikipedia.
See also:
http://www.alohacriticon.com/elcriticon/article869.html
http://www.imdb.com/title/tt0058329/
http://www.biografiasyvidas.com/monografia/hitchcock/
The selected titles are a sample of the recently loaned International Institute Library materials.
If you are interested in seeing or reading this recommendation, you can check its availability in the IIE library catalog.
Marnie, the thief. [DVD] / Alfred Hitchcock. — [Sl] : Universal Studios, [2001]. — 1 DVD (125 min.) : son., col. — (The Hitchcock collection).
Based on the novel by Winston Graham
Languages: English, Spanish; subtitle : English, Spanish, Portuguese, English for the deaf
Sean Connery, Tippi Hedren, Diane Baker
Not recommended for children under 18 years
ZW .H58 M3718 1964
R. 85447