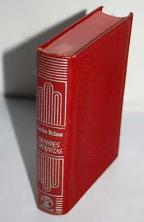 Posted: 18 July 2011
Comments: No comments
The collection in use
"Great Expectations" by Charles Dickens
"Great Expectations is not just a story of big dreams and dramatic setbacks, but essentially, as Chesterton put it, of big hesitations.
Pip, a frightened orphan boy, has a terrifying encounter with an escaped prisoner for whom he is forced to procure groceries and a file. Soon after, he is summoned to the gloomy mansion of a rich and reclusive lady as a playmate for a dry, beautiful and haughty girl. There, the orphan learns, for the first time, that his hands are coarse and his boots are too thick.
Taken from House of the book.
See also:
http://us.penguingroup.com/static/rguides/us/great_expectations.html
http://www.sparknotes.com/lit/greatex/
http://www.gutenberg.org/ebooks/1400
http://es.wikipedia.org/wiki/Charles_Dickens
The selected titles are a sample of the recently loaned International Institute Library materials.
If you are interested in seeing or reading this recommendation, you can check its availability in the IIE library catalog.
Dickens, Charles (1812-1870)
Great Expectations / Charles Dickens; translation, prologue and notes by José Méndez Herrera. — Madrid: M. Aguilar, 1945 (Imp. Heroes). — 875 p.; 12cm — (Crucible Collection; 130).
PR 4560 .A67 1945
R. 88488