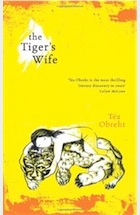 Posted: November 29, 2011
Comments: No comments
The collection in use
"The tiger's wife" by Téa Obreht
"Weaving a brilliant latticework of family legend, loss, and love, Téa Obreht, the youngest of The New Yorker's twenty best American fiction writers under forty, has spun a timeless novel that will establish her as one of the most vibrant, original authors of her generation."
Taken from Amazon.
See also:
http://www.observer.com/2011/culture/not-grown-ups-tigers-wife-tea-obreht
The selected titles are a sample of the recently loaned International Institute Library materials.
If you are interested in seeing or reading this recommendation, you can check its availability in the IIE library catalog.
The tiger's wife / Tea Obrecht. —London: Phoenix, cop. 2011. — 335 p. ; 20cm — (Fiction).
ISBN 978-0-7538-2740-6
PS 3615.B73 T54 2011
R. 98462