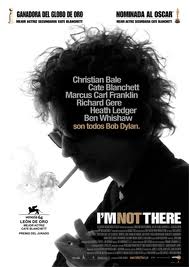 Posted: 15 December, 2011
Comments: No comments
The collection in use
"I'm not there" a film by Todd Haynes
""I'm not there" is an unconventional journey into the life of Bob Dylan. Six actors portray Dylan as a series of shifting personas, from the public to the private to the fantastical, weaving together a rich and colorful portrait of this American icon."
Taken from The FIG tree.
See also:
http://peliculas.labutaca.net/im-not-there
http://www.imdb.com/title/tt0368794/
The selected titles are a sample of the recently loaned International Institute Library materials.
If you are interested in seeing or reading this recommendation, you can check its availability in the IIE library catalog.
I'm not there. [DVD] / a Todd Haynes movie. — Barcelona: Savor editions, DL 2011. — 1 DVD (135 min.): son., col.
Languages: English and Spanish; subtitles: spanish
Christian Bale, Cate Blanchett, Heath Ledger
Not recommended for children under 7 years
DL B 25227-2011
ZW .H396 I4618 2007
R. 84114