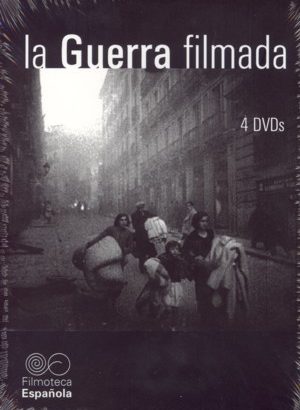 Posted: 5 January 2012
Comments: No comments
The collection in use
"The War Filmed"
"The Spanish Film Library presents the DVD edition of part of the material shot during the Spanish Civil War that is preserved in the collections of the Spanish Film Library, gathered on four discs, under the title "La Guerra filmada"."
Taken from laie.
See also:
http://www.rtve.es/alacarta/videos/la-guerra-filmada
http://www.mcu.es/cine/docs/MC/FE/DVD.pdf
The selected titles are a sample of the recently loaned International Institute Library materials.
If you are interested in seeing or reading this recommendation, you can check its availability in the IIE library catalog.
The war filmed. [DVD]. — [Madrid]: Ministry of Culture: Institute of Cinematography and Audiovisual Arts: Filmoteca Española, DL 2009. — 4 DVDs (ca. 440 min.): son., bl. and n. + 1 booklet (116 p. : ill. in bl. and n. ; 19 cm).
Original versions in: Spanish, Catalan, English, French or Russian and with overlays in Spanish. Subtitles in Spanish, English or French
Documentaries recovered by the Spanish Film Library included in the Spanish Television series "La Guerra filmada". The book contains a brief prologue by Julián Casanova and a synopsis of the documentaries
DL M 488838-2009 — NIPO: 554-09-021-8