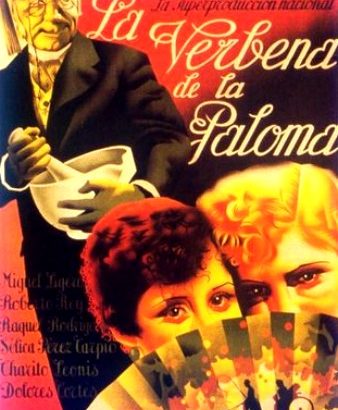 Posted: 19 January 2012
Comments: No comments
Featured news of the week
"La verbena de la Paloma" a film by Benito Perojo
"Two seamstress sisters, who live in Mrs. Rita's pension, are wanted by the old apothecary Don Hilarión. When the two decide to go to the festival of the Paloma with the pharmacist, the boyfriend of one of them will try to prevent it. Based on the famous Madrid zarzuela of the same name."
Taken from Filmmafinity.
See also:
http://www.epdlp.com/director.php?id=4296
http://cine.blogspot.com/2003/01/la-verbena-de-la-paloma-benito-perojo.html
http://es.wikipedia.org/wiki/La_verbena_de_la_Paloma
The recommended titles are in the Library of the International Institute. If you are interested in reading this recommendation, you can check its availability at catalog of the library
The festival of the Dove. [DVD] / a film by Benito Perojo. — Valladolid: Divisa Home Video, [2009]. — 1 DVD (ca. 72 min.) : son. + 1 booklet. — (The torch of successes).
Spanish Language
Charito Leonís, Dolores Cortés, Miguel Ligero, Raquel Rodrigo, Roberto Rey, Selica Pérez Carpio
Authorized for all audiences
DL M 19018-2009
ZW.P47 V47 1935
R. 98528