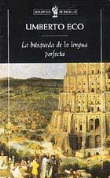 Posted: 25 January 2012
Comments: No comments
The collection in use
"The search for the perfect language in European culture" by Umberto Eco
"In this elegant and entertaining book, Umberto Eco traces the utopia of the perfect language through almost two thousand years. From the pre-babylic language to artificial formalized languages, passing through mystical, magical and dream languages, Indo-European, Kabbalah, the perfect languages ​​of Dante and Llull, Esperanto or auxiliary international languages, Professor Eco guides us to the end of the long search of European culture in pursuit of the lost language."
Taken from The book house.
See also:
http://revistas.ucm.es/index.php/CIYC/article/view/CIYC9899110133A
http://www.umbertoeco.com/en/essays-book-chapters-dissertations.html
http://es.wikipedia.org/wiki/Umberto_Eco
The selected titles are a sample of the recently loaned International Institute Library materials.
If you are interested in seeing or reading this recommendation, you can check its availability in the IIE library catalog.
The search for the perfect language in European culture / Umberto Eco. — Barcelona: Crítica, DL 1994. — 318 p. ; 23cm — (The construction of Europe).
title Orig.: The research of the perfect language in European culture
Bibliography: p. 295-308
ISBN-84 7423-652-5
P106.E2718 1994
R. 73501