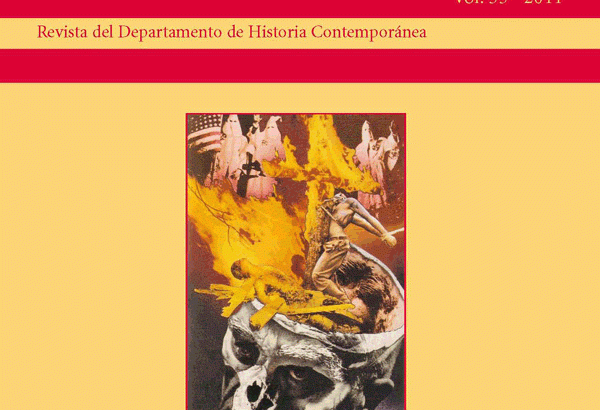 Posted: 23 February, 2012
Comments: No comments
New number received from: NOTEBOOKS OF CONTEMPORARY HISTORY (Vol. 33 2011)
Summary of this issue:
FILE: VIOLENCE AND PUBLIC SPACE IN CONTEMPORARY SOCIETY
*Introduction. Gutmaro Gomez Bravo
*From being human to becoming human: around the concept of humanization of Law. Luis Lloredo Alix
*Enquête judiciaire, littérature et imaginaire social au XIXe siècle. Dominique Khalifa
*Disputing the Public Sphere: Anticlerical Violence, Conflict and the Sacred Heart of Jesus, April 1931-July 1936. Maria Thomas
*Beyond the walls of the cemeteries: cultural and socioeconomic repression in Franco's Spain (1936-1951). Claudio Hernandez Burgos and Miguel Angel Del Arco Blanco
STUDIES
*Violence and male youth cultures in rural society at the beginning of the XNUMXth century: Tierra de Campos. Jesus-Angel Redondo Cardeñoso
*Heroes Between Moscow and Medina: Figures of Imperial Integration in the Muslim Regions of the Soviet Union
* The failure of the regenerative project of the Liberal Union (1860-1863): the end of expectations of change. Ignacio Chato Gonalo
*Spa resorts, political interests and tourism development in northwestern Spain: the case of A Toxa and Mondariz (1874-1935). Margarita Vilar Rodriguez
* Modernizing from below. The reconversion of caciquism and mass politics in Catalan cities (1901-1923). Maria Gemma Rubi Casals
* The political attitudes of Manuel de Falla: confidence, bewilderment and prevention. Manuel Titos Martinez
*The guerrillas in the Popular Army of the Republic (1936-1939). Hernan Rodriguez Velasco
* The second-line militias in the Francoist rearguard. The Galician case. Julio Prada Rodriguez
NOTES
*The meaning of fashion in dictatorial systems. A historical semiotic note. Anna Pelka
*The false secret treaty of Verona of 1822. Rosario de la Torre del Río
DEPARTMENT ACTIVITIES
*Research Seminar of the Department of Contemporary History (course 2010-2011). Jose Miguel Hernandez Barral and Francisco Jose Rodrigo Luelmo
*Spain-Europe relations and the history of Spanish emigration: around two exhibitions. Carlos Sanz Diaz
*Exhibition "The phenomenon of "Solidarity". Images from the history of Poland, 1980-1981. Jose M. Faraldo
Doctoral theses read during the 2010-2011 academic year
REVIEWS
*Evaluators of the last three issues of Contemporary History Notebooks
Previous summaries in Dialnet.
See also Web page of the magazine.
See available numbers in the library.