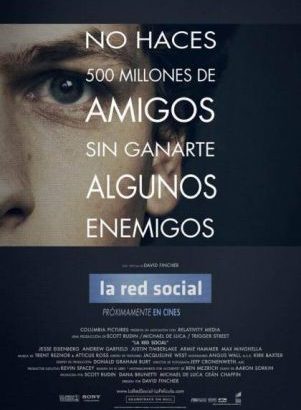 Posted: 8 March, 2012
Comments: No comments
Featured news of the week
"The Social Network" directed by David Fincher
"In "The Social Network", director David Fincher and screenwriter Aaron Sorkin explore the moment of the invention of Facebook, the most revolutionary social phenomenon of the new century. Drawing on multiple sources, the film moves from the halls of Harvard to the cubicles of Palo Alto to capture the visceral excitement of the beginnings of a phenomenon that would change today's culture and recount how it brought together then tore apart a group of young revolutionaries. ."
Taken from The armchair.
See also:
http://cultura.elpais.com/cultura/2010/10/01/actualidad/1285884004_850215.html
http://es.wikipedia.org/wiki/The_social_network
http://www.imdb.com/title/tt1285016/
The recommended titles are in the Library of the International Institute. If you are interested in reading this recommendation, you can check its availability at catalog of the library
The social network =(the social network). [DVD] / a David Fincher film. — Madrid: Sony Pictures Home Entertainment, cop. 2010. — 2 discs (DVD) (ca. 115 min.) : son., col. + 1 booklet (64 p.). — (SpeakUp).
Languages: English and Spanish; subtitle: english, spanish
Jesse Eisenberg, Andrew Garfield, Justin Timberlake
Not recommended for children under 7 years
DL B 24775-1985