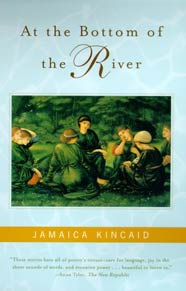 Posted: 18 April 2012
Comments: No comments
The collection in use
"At the Bottom of the River" by Jamaica Kincaid
"Reading Jamaica Kincaid is to plunge, gently, into another way of seeing both the physical world and its elusive inhabitants. Her voice de ella is, by turns, naively whimsical and biblical in its assurance de ella, and it speaks of what is partially remembered partly divined. The memories often concern a childhood in the Caribbean–family, manners, and landscape–as distilled and transformed by Kincaid's special style and vision of him. "
Taken from Amazon.
See also:
http://www.enotes.com/bottom-river-criticism/bottom-river-jamaica-kincaid
http://www.umass.edu/complit/aclanet/kincaid1.html
http://en.wikipedia.org/wiki/Jamaica_Kincaid
The selected titles are a sample of the recently loaned International Institute Library materials.
If you are interested in seeing or reading this recommendation, you can check its availability in the IIE library catalog.
At the bottom of the River / Jamaica Kincaid. — New York: Vintage Books, 1985. — 82 p. ; 20cm — (The Vintage Library of Contemporary World Literature).
ISBN-0 394-73683-4
PR 9275.A583 K56 1985
R. 57777