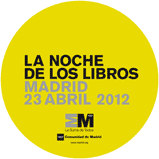 Posted: 23 April 2012
Comments: No comments
Celebration of Book Day 2012 within the Night of the Books
One more year we have celebrated Book Day with a storytelling session in English by Trisha & Carrie and about the story "What about me?", within the Night of the Books program. We advance you a photo, you will be able to see more shortly within our account of Flickr.
At the end we have made the award ceremony of the II Short Story Contest of the International Institute in the children's and youth category and we have made a book raffle among the children attending the Storytelling.
In parallel we have released different books around the building following the movement Bookcrossing.
HAPPY BOOK DAY EVERYONE!