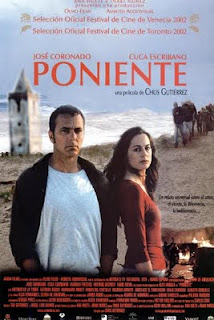 Posted: 3 May 2012
Comments: No comments
The collection in use
"Poniente" directed by Chus Gutiérrez
"Lucía, a young teacher who lives in Madrid, returns to her land with her daughter Clara after the death of her father. She there she meets the town of her childhood, 'La Isla'. Lucía decides to stay in the town-island to continue her father's business, an excuse that she takes advantage of to give her life a new turn.
Taken from Cinemajove.
See also:
http://www.labutaca.net/films/11/poniente.htm
http://elpais.com/diario/2002/04/05/cine/1017957612_850215.html
http://es.wikipedia.org/wiki/Poniente_(pel%C3%ADcula)
The selected titles are a sample of the recently loaned International Institute Library materials.
If you are interested in seeing or reading this recommendation, you can check its availability in the IIE library catalog.
West. [DVD] / a film by Chus Gutiérrez. — Valladolid: Divisa Home Video, [2002]. — 1 DVD (92 min.): son., col.
Languages: Spanish; subtitle: english
Jose Coronado, Cuca Notary
For all audiences
DL M 52933-2002
ZW.G87 P6 2002
R. 91376