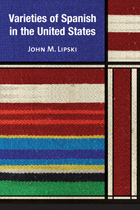 Posted: 18 June, 2012
Comments: No comments
Featured news of the week
"Varieties of Spanish in the United States" by John M. Lipski
"Thirty-three million people in the United States speak some variety of Spanish, making it the second most used language in the country. "Some of these people are recent immigrants from many different countries who have brought with them the linguistic traits of their homelands, while others come from families who have lived in this country for hundreds of years."
Taken from Googlebooks.
See also:
http://press.georgetown.edu/book/languages/varieties-spanish-united-states
http://www.personal.psu.edu/jml34/vitae.pdf
http://muse.jhu.edu/books/9781589016514
The recommended titles are in the Library of the International Institute. If you are interested in reading this recommendation, you can check its availability at catalog of the library
Varieties of Spanish in the United States / John M. Lipski. — Washington DC: Georgetown University Press, 2008. — XII, 303 p. ; 23cm — (Georgetown Studies in Spanish Linguistics Series).
Bibliography: p. 243-287
ISBN 978-1-58901-213-4
PC 4826 .L56 2008
R. 99096