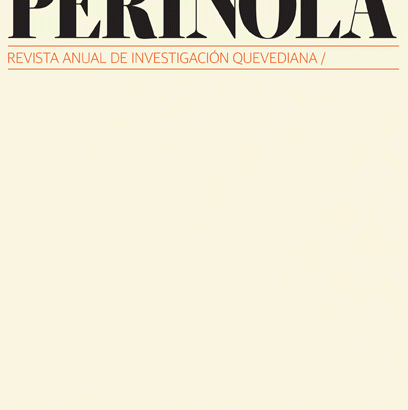 Posted: 11 July 2012
Comments: No comments
New number received from: LA PERINOLA: Quevediana research magazine (nº 16. 2012)
Summary of this issue:
* The woman in Quevedo. David Felipe Arranz and José Luis Rivas Cabezuelo (coordinators)
STUDIES
*Of love and revenge in the poetry of Quevedo: perspectives of the aged beloved in the tradition of Carpe Diem". Maria Jose Alonso Veloso.
* Female models in the poetry of Quevedo. Ignatius Arellano.
* The eroticism in Quevedo's love poetry: the objects of desire. Alicia Gallego Zarzosa.
*Certain enemies of Quevedo: the batracias and the "hembrilatinas". Lina Rodriguez Cacho
* The Lisi of Quevedo. Marie Roig Miranda.
* Pictorial portraits of women in the poetry of Quevedo. Ana Suarez Miramon.
*The figures of Eva and María in Quevedo's work. Maria Vallejo Gonzalez.
VARIA
*New technologies and social networks in Humanities research. Alvaro Baraibar and Shai Cohen.
*A spin on the rhetorical tradition in Francisco de Quevedo: Spain defended as monument propaganda and canonization (with an excursus on the survival of Quintilian). Francisco J. Escobar.
* The disciplining gallant in the poetry of Quevedo. Luciano Lopez Gutierrez.
*Annotations to the silva To the bones of a king that were found in a sepulcher of Francisco Quevedo. Henry Moreno Castillo.
*From Cervantes to Quevedo: testament and death of Don Quixote. Adrian J. Saez.
*The comic decorum of the buscon: parody of Watchtower by Mateo Aleman. Maria Jose Tobar Quintanar.
Previous summaries in Dialnet.
See also magazine website.
See numbers available in the Library of the International Institute.