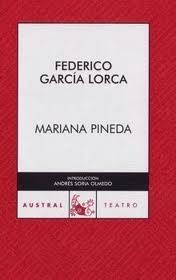 Posted: 17 July 2012
Comments: No comments
The collection in use
"Mariana Pineda" by Federico Garcia Lorca
"The author's first drama pays homage to the most popular heroine of his native Andalusia. A young woman from Granada is imprisoned in 1831 for having ordered the embroidery of the flag that will serve as the insignia of a liberal insurrection. She is promised her freedom if she betrays her bosses, but she, refusing to do so, is sentenced to death and executed."
Taken from House of the book.
See also:
http://www.andalucia.cc/viva/mujer/mariana.html
http://es.wikipedia.org/wiki/Mariana_Pineda_(obra_de_teatro)
The selected titles are a sample of the recently loaned International Institute Library materials.
If you are interested in seeing or reading this recommendation, you can check its availability in the IIE library catalog.
Mariana Pineda / Federico Garcia Lorca; edition of Luis Martinez Cuitiño. — Madrid: Chair, DL 1991.
366 pages : ill. ; 18 cm. — (Hispanic letters; 331).
Bibliography: P. 125-127.
DL M 8671-1991. — ISBN 84-376-0976-3
PQ 6613.A763 M3 1991
R. 68615000