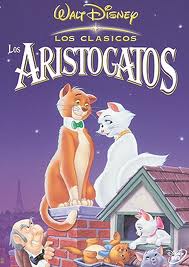 Posted: 19 July 2012
Comments: No comments
The collection in use
"Aristocats" directed by Wolfgang Retherman
"'The Aristocats' is a Walt Disney classic and one of the best animated films of all time. It all begins when an eccentric millionaire leaves her entire inheritance to her cats, her greedy butler decides to abandon the cats in the French countryside. This is how this endearing family of cats, made up of Duchess and her three adorable kittens, will embark on an adventurous journey to return to Paris accompanied at all times by a street casanova named OMalley. "
Taken from fnac.
See also:
http://www.filmaffinity.com/es/film892694.html
http://disney.go.com/disneyinsider/history/legends/wolfgang-reitherman
http://es.wikipedia.org/wiki/Los_Aristogatos
The selected titles are a sample of the recently loaned International Institute Library materials.
If you are interested in seeing or reading this recommendation, you can check its availability in the IIE library catalog.
ARISTOCATOS [DVD] : = [The aristocats] / [Director Wolfgang Retherman]. — [Sl] : Buena Vista Home Entertainment, [2001].
1 DVD (76 min.) : son., col. — (The classics; 20).
Languages: Spanish, English; Subtitles: Spanish, English, etc.
DL M 39479-2001
ZW .R48 A7518 1970
R. 92633000