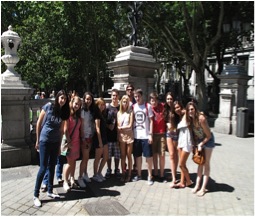 Posted: 11 January 2013
By: wp support
Comments: No comments
Winter term begins
We have already started the winter quarter at the Institute, and we have some news to tell you.
First, our dear teacher, Chris Sanchez, has gone to live in Paris. We are sure that she will do very well, but we will miss him around here. Chris had been here as a teacher for several years and always had new ideas to contribute. He helped us a lot at camp in July, too.
Here are some pictures of his time here:
Second novelty: Our teacher of the adult program, Peter Savaiano, has joined the Young Learners team. Peter is from Chicago and is a very knowledgeable and lively teacher. Soon they will have their profile here on the blog.
Third novelty: This month the activities of the Library are brought forward. Readers' Theater, dramatized reading for boys and girls from 4th to 6th grade, will be next Friday 18. And the storyteller It will be Saturday the 20th.
We are waiting for you, in class and in the library!