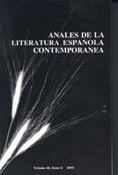 Posted: 15 January 2013
Comments: No comments
New number received from: JOURNAL OF SPANISH PHILOLOGY (vol. XCII, nº2. July-December 2012)
Summary this issue:
ARTICLES
*The Terminological Vocabulary of Medicine by Manuel Hurtado de Mendoza. Bertha M. Gutierrez Knee
* any way you want: the in the indefinite compounds of medieval Spanish. Enrique, Pato Maldonado
* Nebrija's Grammar (1492): a didactic treatise through its typography. Rene Pellen
* Excerpts from the Castilian Macer Floridus in ms. II-3063 of the Royal Library. Jesus Thought Figueiras
* : Lope de Vega and the dramatic dance. Francisco Saez Raposo
BIBLIOGRAPHICAL NOTES
REFERENCES
* Mariano García Quirós and Inmaculada Medina Peñate
RFE STANDARDS
Previous summaries in Dialnet.
See also magazine website.