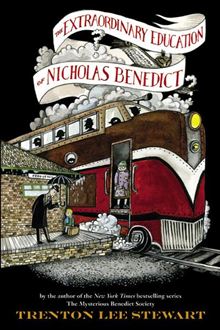 Posted: 31 January 2013
Comments: No comments
Featured news of the week
"The extraordinary education of Nicholas Benedict" by Trenton Lee Stewart & Diana Sudyka
"Nine-year-old Nicholas Benedict has more problems than most children of his age. Not only is he an orphan with an unfortunate nose, but he also has narcolepsy, a condition that gives him terrible nightmares and makes him fall asleep at the worst possible moments. Now he's being sent to a new orphanage, where he will encounter vicious bullies, selfish adults, strange circumstances — and a mystery that could change his life forever.
Taken from Amazon.
See also:
http://www.npr.org/books/titles/147598731/the-extraordinary-education-of-nicholas-benedict#excerpt
http://mysteriousbenedictsociety.com/
http://www.literaturfestival.com/participants/authors/2010/trenton-lee-stewart
The recommended titles are in the Library of the International Institute. If you are interested in having access to them, you can check their availability in the catalog of the library
(The) extraordinary education of Nicholas Benedict [Print] / by Trenton Lee Stewart; illustrated by Diana Sudyka. — 1st. ed. —New York: Little, Brown and Company, 2012.
470 pages : ill. ; 22cm
ISBN 978-0-316-17619-4
PZ 7 .S7347 E9 2012
R. 201162483