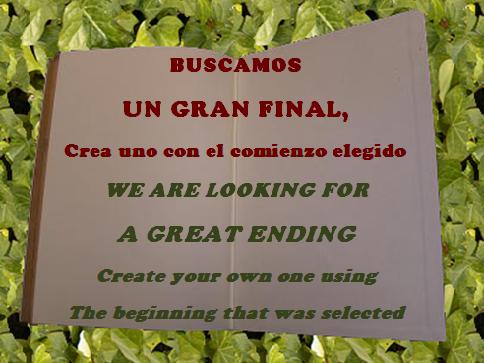 Posted: 6 March, 2013
Comments: No comments
Proposals recently received as a possible final within the Short Story Contest
III INTERNATIONAL INSTITUTE MICRO-STORY COMPETITION
Part Two: "A Grand Finale"
ADULT CATEGORY – IN SPANISH:
AUNT DANIELA FELL IN LOVE AS INTELLIGENT WOMEN ALWAYS FALL IN LOVE: LIKE AN IDIOT.
18. When the train passed, he got on, he could not intuit that he was going to be assaulted by a Taliban who imposed their doctrine on him and stripped him even of his dignity.
19. jovial, and very convinced of having found true eternal love.
20. adolescent who measures desire with his eyes and instinct.
21. smiling, quite deluded that her intelligence and common sense would be infallible in love and would not disappoint her.
22. Convinced that the person she loved, the one who had assaulted her heart, was an honest person, and beautiful. Her soul mate.
23. airy-legged young lady with the sublime satisfaction of infallibility and delight.
ADULT CATEGORY – IN ENGLISH:
desert category.
CHILDREN/JUVENILE CATEGORY – IN SPANISH:
SO MANY THINGS THAT BEGIN AND PERHAPS END LIKE A GAME,
CHILDREN/JUVENILE CATEGORY – IN ENGLISH:
JONAH WAS FALLING, TUMBLING OVER AND OVER, DOWN AND DOWN, THROUGH NOTHINGNESS AND ABSENCE AND VOID.
—
DEADLINE FOR DELIVERY OF "A GRAND FINAL" to library@iie.es: until March 15, 2013.
One winner per category will be selected from among all the proposals received, who will receive as a prize a set of books from the Siruela publishing house, a collaborating publisher of the contest.