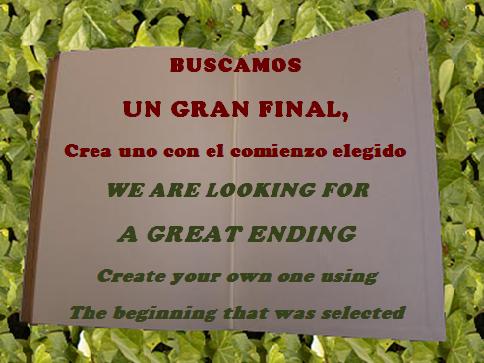 Posted: 14 March, 2013
Comments: No comments
Proposals recently received as a possible final within the Short Story Contest
III INTERNATIONAL INSTITUTE MICRO-STORY COMPETITION
Part Two: "A Grand Finale"
ADULT CATEGORY – IN SPANISH:
AUNT DANIELA FELL IN LOVE AS INTELLIGENT WOMEN ALWAYS FALL IN LOVE: LIKE AN IDIOT.
24. Cowardly resigned: free fall. Altitude exceeded longitude. Email sent: niece retains her sanity and received: Transfer granted.
25. Black circles under the eyes, a Pinocchio nose and a belt like a whip. Last performance of the circus, the clown denounces and in the cage of the lions my uncle.
26. That did not prevent Daniela from living the rest of her life with her husband in the only way she knew how to do it: as a brilliant dictator.
ADULT CATEGORY – IN ENGLISH:
desert category.
CHILDREN/JUVENILE CATEGORY – IN SPANISH:
SO MANY THINGS THAT BEGIN AND PERHAPS END LIKE A GAME,
So many things that begin and perhaps end as a game,
1. They are a game from start to finish. The white queen slips behind the rook. The black king strikes down the white knight. Checkmate the king.
CHILDREN/JUVENILE CATEGORY – IN ENGLISH:
JONAH WAS FALLING, TUMBLING OVER AND OVER, DOWN AND DOWN, THROUGH NOTHINGNESS AND ABSENCE AND VOID.
1. Finally he reached a big cave with a lake. A huge wave tumbled him over again. Suddendly I realized that he was in a whale's belly.
—
DEADLINE FOR DELIVERY OF "A GRAND FINAL" to library@iie.es: until March 15, 2013.
One winner per category will be selected from among all the proposals received, who will receive as a prize a set of books from the Siruela publishing house, a collaborating publisher of the contest.
See more details at:
http://bibliotecaiie.wordpress.com/i-concurso-de-microrrelatos-del-instituto-internacional/