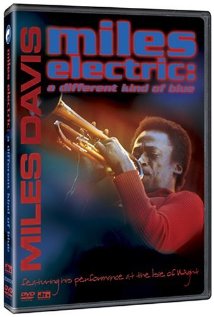 Posted: 2 April 2013
Comments: No comments
The favorite movies of library users
"Miles electric: a different kind of blue" directed by Murray Lerner
"Electric Miles Davis in 1970 at the Isle of Wight rock music festival, taking hippies "to the other side" alongside the likes of Jack DeJohnette, Chick Corea, Keith Jarrett, Gary Bartz, Airto Moreira and Dave Holland. It includes interviews with the musicians who played with him in the post Bitches Brew era, as well as with Santana and Joni Mitchell, who also played at the festival.
Taken from filmaffinity.
See also:
http://www.filmin.es/director/murray-lerner
http://www.imdb.com/title/tt0427541/
http://www.milesdavis.com/us/home
http://es.wikipedia.org/wiki/Miles_Davis
The selected titles are a sample of the recently loaned International Institute Library materials.
If you are interested in this work, you can check its availability at IIE library catalog.
MILES electric [DVD] : a different kind of blue / director Murray Lerner. — [Sl] : Eagle vision, DL 2007.
1 DVD (ca. 123 min.): son., col.
United States, 2004. — Authorized for all audiences. - English language ; Subtitles: German, English, Spanish, French, Italian, Dutch, Portuguese.
DL M-55.803-2007