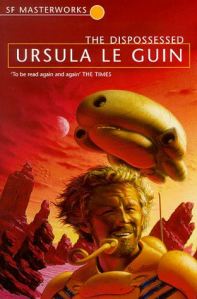 Posted: 5 June, 2013
Comments: No comments
The favorite books of our readers
"The disposed" by Ursula Le Guin
"Shevek, a brilliant physicist, decides to take action. he will seek answers, question the unquestionable, and attempt to tear down the walls of hatred that have isolated his planet of anarchists from the rest of the civilized universe. To do this dangerous task will mean giving up his family and possibly his life from him. Shevek must make the unprecedented journey to the utopian mother planet, Anarres, to challenge the complex structures of life and living, and ignite the fires of change."
Taken from Amazon.
See also:
http://www.guardian.co.uk/books/booksblog/2011/mar/29/hugo-award-ursula-le-guin
http://www.goodreads.com/book/show/13651.The_Dispossessed
http://faculty.vassar.edu/stillman/docs/Le%20Guin%20bk%20(as%20pub).1.pdf
http://en.wikipedia.org/wiki/The_Dispossessed
The selected titles are a sample of the recently loaned International Institute Library materials.
If you are interested in this work, you can check its availability at IIE library catalog.
The dispossessed / Ursula LeGuin. —Great Britain: Gollancz, 2002.
318 pages ; 20cm — (SF Masterworks; 16).
ISBN 978-1-85798-882-6
PS3562.E42 D57 2002
R. 98034000