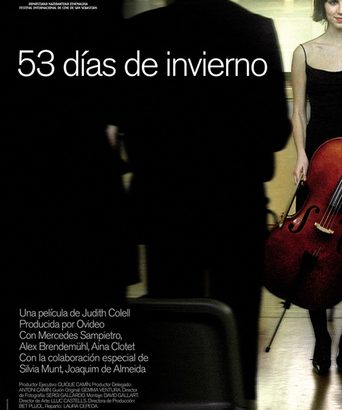 Posted: 13 June, 2013
Comments: No comments
Featured news of the week
"53 Days of Winter" directed by Judith Colell
"Three characters meet one winter night at a bus stop and witness the abandonment of a dog. The three characters will begin a drifting journey that will lead them to face their fears and frustrations and each of them make a decision to the limit that will change their lives.
Taken from fnac.
See also:
http://www.filmin.es/director/judith-colell#bio
http://historias-troyanas.blogspot.com.es/2010/10/53-dias-de-invierno.html
http://es.wikipedia.org/wiki/53_d%C3%ADas_de_invierno
The recommended titles are in the Library of the International Institute. If you are interested in having access to them, you can check their availability in the catalog of the library
53 Days of Winter [DVD] / Director, Judith Colell. — Barcelona: Sogedasa, DL 2008.
1 DVD (ca. 87 min.) : son. cabbage.
Includes material and extras with additional information. — Marcedes Sampietro, Alex Brendemühl, Aina Clotet. — Spain, 2006. — Languages: Spanish, Catalan; subtitles: english, french.
DLDL B-2510-2008
ZW.C6484 C5 2006
R. 201162823