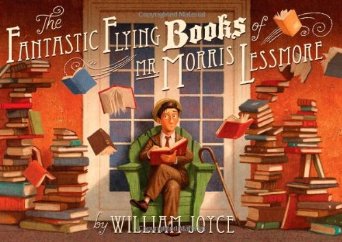 Posted: 22 July 2013
Comments: No comments
The favorite books of our readers
"The fantastic flying books of Mr. Morris Lessmore" by William Joyce & Joe Bluhm
"Stunningly brought to life by William Joyce, one of the preeminent creators in children's literature, The Fantastic Flying Books of Mr. Morris Lessmore is a modern masterpiece, showing that in today's world of traditional books, eBooks, and apps, it's story that we truly celebrate—and this story, no matter how you tell it, begs to be read again and again."
Taken from Amazon.
See also:
http://www.goodreads.com/book/show/13083239-the-fantastic-flying-books-of-mr-morris-lessmore
http://www.youtube.com/watch?v=VB6fF83qrKY
The selected titles are a sample of the recently loaned International Institute Library materials.
If you are interested in this work, you can check its availability at IIE library catalog.

(The) fantastic flying books of Mr. Morris Lessmore [Print] / written by William Joyce ; Illustrated by William Joyce & Joe Bluhm. — New York [etc.] : Atheneum Books for Young Readers, cop. 2012.
1 vs. (no page) : ill. ; 21x30cm.
ISBN 978-1-4424-5702-7
PZ7 .J69 F36 2012
R. 201162712