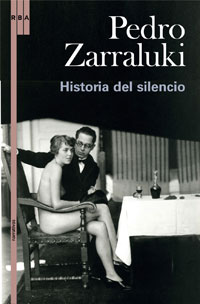 Posted: 23 July 2013
Comments: No comments
The favorite books of our readers
"The history of silence" by Pedro Zarraluki
"This novel is about another book that was never written, and also about everything that we hide from the people who are most sure of knowing us. After a beautiful shared daydream, a couple decides to embark on the preparation of a book about silence."
Taken from The book house.
See also:
http://www.anagrama-ed.es/titulo/NH_168
http://www.elmundo.es/encuentros/invitados/2005/02/1427/
http://es.wikipedia.org/wiki/Pedro_Zarraluki
The selected titles are a sample of the recently loaned International Institute Library materials.
If you are interested in this work, you can check its availability at IIE library catalog.

The history of silence / Pedro Zarraluki. — Barcelona: Anagrama, DL 1994.
202 pages ; 22cm — (Hispanic Narratives; 168).
DL B 39786-1994. — ISBN 84-339-0978-9
860-3″19″
PQ 6676.A77 H5 1994
R. 74462000