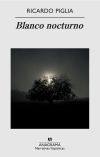 Posted: October 21, 2013
Comments: No comments
The favorite books of our readers
"Nocturnal White" by Ricardo Piglia
"Tony Durán, a strange foreigner, born in Puerto Rico, educated as an American in New Jersey, was murdered in the early seventies in a town in the province of Buenos Aires. Before he died, Tony was the center of everyone's attention, the admired, watched, different but also the fascinating one."
Taken from The book house.
See also:
http://www.letraslibres.com/revista/libros/blanco-nocturno-de-ricardo-piglia-0
http://www.elcultural.es/version_papel/LETRAS/27733/Blanco_nocturno
http://es.wikipedia.org/wiki/Ricardo_Piglia
http://www.anagrama-ed.es/titulo/NH_476
The selected titles are a sample of the recently loaned International Institute Library materials.
If you are interested in this work, you can check its availability at IIE library catalog.
Night white / Ricardo Piglia. — 2nd ed. — Barcelona: Anagram, 2010.
299 pages ; 22cm — (Hispanic Narratives; 476).
DL B 37685-2010. — ISBN 978-84-339-7215-6
PQ 7798.26 .I4 B53 2010
R. 97292000