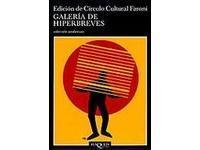 Posted: October 30, 2013
Comments: No comments
The favorite books of our readers
"Gallery of hyper-briefs: new minimal stories"
"In these seventy minimal stories, which do not exceed fifteen lines, we start from the ingenuity of a situation or a motive, which may be known but of which an unpublished reading is offered, and sometimes small novels in capsules, or budding, with all the interpretive possibilities. The reader will discover that in all of them the art of saying more with less predominates, that of intuiting with a reason, a unique episode, another reading of the world."
Taken from Amazon.
See also:
http://www.elcultural.es/version_papel/LETRAS/3996/Galeria_de_hiperbreves
http://circulofaroni.wordpress.com/
http://www.redmini.net/pdf/Hernandez.pdf
The selected titles are a sample of the recently loaned International Institute Library materials.
If you are interested in this work, you can check its availability at IIE library catalog.
GALLERY of hyper-briefs: new minimal stories / Jesús Alonso … [et al.]. — 1st ed. — Barcelona: Tusquets, 2001.
142 pages ; 21cm — (Wanderings Collection; 462).
DL B 47342-2001. — ISBN 84-8310-191-2
PQ 6257.G35 2001
R. 86502000