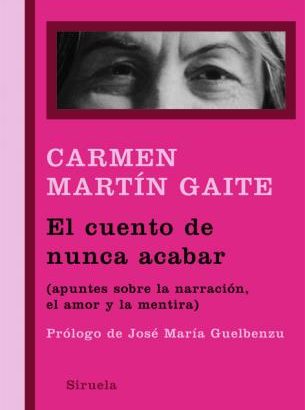 Posted: 13 January 2014
Comments: No comments
The favorite books of our readers
"The never-ending story: notes on narration, love and lies" by Carmen Martín Gaite and illustrated by Francisco Nieva
"The never ending story allows the reader, like no other book, to know and enjoy the rich thought and the extraordinary world that characterized the work and life of this author from Salamanca. What Carmen Martín Gaite proposes is to address the reader of her book as that child who has to learn to read and resists. "
Taken from House of the book.
See also:
http://www.siruela.com/catalogo.php?id_libro=1323
http://es.wikipedia.org/wiki/Carmen_Mart%C3%ADn_Gaite
http://biblioteca.unex.es/tesis/978-84-7723-890-4.pdf
The selected titles are a sample of the recently loaned International Institute Library materials.
If you are interested in this work, you can check its availability at IIE library catalog.
(The) never-ending story: notes on narration, love and lies / Carmen Martín Gaite ; Illustrated by Francisco Nieves. — [2nd ed.]. — Madrid: Trieste, 1983.
407 pages : ill. ; 17cm — (Library of Spanish Authors; ; 5).
Contains: Seven prologues; cross-country; relationship breakdown; Scrambled River.
DL M 29117-1983. — ISBN 84-85762-12-6
PQ 6623.A7657 C84 1983
R. 55706000