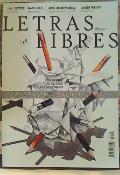 Posted: 15 January 2014
Comments: No comments
New number received from: Letras Libres (year XIII, nº148.January 2014)
DOSSIER
The crisis of the intellectuals. Round table: Félix de Azúa, Irene Lozano, José Andrés Rojo.
LIVING
*Mark Lilla: Isaiah Berlin against the grain
*TS Elliot: East Coker
*Norman Manea: Shadows of the Past, Shadows of the Present
*Gabriel Zaid: Chronology of progress up to 2.500 years ago
*MJ Coetzee: The old woman and the cats
CRITICAL PRESENCE: Enrique Krauze.
Gabriel Zaid: Criticism for what?. Fernando Garcia Ramirez.
Thirty years of "For a democracy without adjectives". Jesus Silva-Herzog Marquez
Ethics elements. Christopher Dominguez Michael.
POEMS:
*The particle accelerator. Julio Trujillo
*Hancock. Ernesto Hernandez Busto
INTERVIEW
*Michael Walzer, by Ángel Jaramillo.
BOOKS
*Very brief account of the destruction of the Indies, by Fray Bartolomé de las Casas (edition by Manuel Martinez Torrejón). Rodrigo Martinez Baraks.
*How to be a woman by Caitlin Moran. Estefania Vela Beard.
*In search of lost meaning. The New Eastern Europe by Adam Michnik. Daniel Gascon.
*The color of Nell Leyshon's milk. Leah Bonnin.
* The manifest communist: a ghost travels the world again, by Iván de la Nuez. Patrick Pron.
*Ramón Andrés's luthier from Delft. Andrew James.
*What has no name of Piedad Bonnett.María Virginia Jaua.
*Oliver Shacks hallucinations. Alloma Rodriguez.
ARTS AND MEDIA
*Cinema: New Mexican cinema. Vicente Molina Foix.
*Music: Mecano: the force of the cheesy. Alloma Rodriguez.
LETTERS
*Correspondence: the letters on the table. Xavier Pericay.
*Chess: Billy. Merlin Acevedo.
*Poetry: The glass of Gorostiza. Andres Sanchez Robayna.
*Science: Biology of altruism. Maria Teresa Giménez Barbat.
*Magic: Library of illusionism. Laia Jufresa.
*Infinitesimal Journal: Bible and literature. Hugo Hiriart.
Columns
* SYNAPSES: Piranesi: melancholy as an inner prison.
*AEROLITES: The handling of happiness. Henry Serna.
*SALTAPATRÁS: Cousin Guillermo. William Sheridan.
Previous summaries in Dialnet
http://dialnet.unirioja.es/servlet/revista?tipo_busqueda=CODIGO&clave_revista=882
See also web page of the magazine
See numbers available in the library