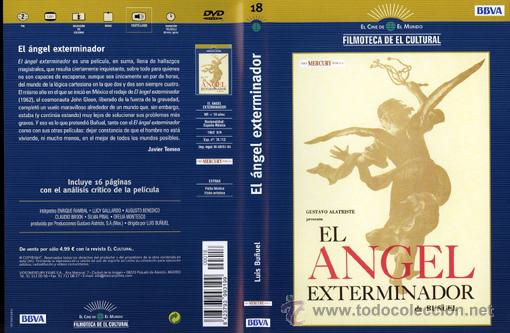 Posted: 5 February, 2014
Comments: No comments
The library's favorite movies
"The exterminating angel" directed by Luis Buñuel.
"After a dinner at the Nobile mansion, the guests discover that, for inexplicable reasons, they cannot leave the place. As the situation continues for several days, courtesy in the treatment gives way to the most primitive and brutal survival instinct."
Taken from Filmaffinity.
See also:
http://www.imdb.com/title/tt0056732/?ref_=nv_sr_1
http://es.wikipedia.org/wiki/El_%C3%A1ngel_exterminador
http://es.wikipedia.org/wiki/Luis_Bu%C3%B1uel
The selected titles are a sample of the recently loaned International Institute Library materials.
If you are interested in this work, you can check its availability at IIE library catalog.
(The) ÁNGEL exterminador [DVD] / directed by Luis Buñuel. — Pozuelo de Alarcón (Madrid): Videomercury films, [2001]. 1 DVD (approx. 88 min.): son., bl. and n. — (Filmoteca de el cultural. El cine de el mundo; 18). Languages: Spanish. — Enrique Rambal, Lucy Gallardo, Augusto Benedico.
NIPO 70112
DL M 39757-2003
ZW.B86 A54 1962