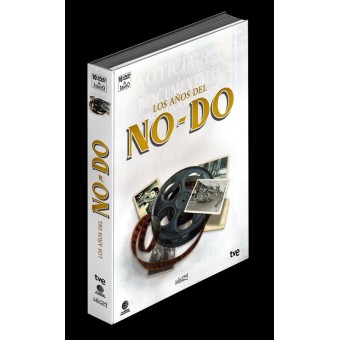 Posted: 25 February, 2014
Comments: No comments
Featured news of the week
"The No-Do Years" on DVD
"That the NO-DO was created as an instrument for the official propaganda of the Regime is unquestionable, but, at the same time, it also responded to its motto of "The whole world within the reach of all Spaniards". This impressive audiovisual legacy, which spans almost 40 years, collected the great events of Spanish society and showed the small anecdotes of daily life in which people could feel represented. The thousands of preserved film rolls contain the essence of a country, beyond its original political intentions, and have become the heritage of all Spaniards."
Taken from fnac.
See also:
http://www.rtve.es/filmoteca/no-do/
http://es.wikipedia.org/wiki/NO-DO
The recommended titles are in the Library of the International Institute. If you are interested in having access to them, you can check their availability in the catalog of the library
(The) YEARS of No-Do [DVD]. 1. 1939-1944. — Valladolid: Red Currency, DL 2013.
1 DVD (ca. 210 min) : son., bl. and n. and col..
Contains: Winners and losers: the war is over; Winners and losers: neutral Spain; Dangerous Liaisons: The World at War; Dangerous Liaisons: Playing Two Gangs; Franco goes around Spain; The regime flirts with the allies. — Spain 1942-1981. — The NO-DO (acronym for News and Documentaries), was a news program that was shown in Spanish cinemas before the film itself, between 1942 and 1981. — Authorized for all audiences. — Languages: Spanish.
DL M-17484-2013
1. Spain – History – 1939-1955. 2. Documentaries.
R. 201165565