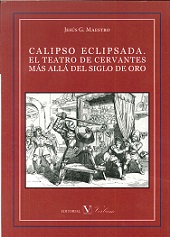 Posted: 27 February, 2014
Comments: No comments
Featured news of the week
"Calypso eclipsed: Cervantes' theater beyond literature" by Jesús G. Maestro
"This new book by Jesús González Maestro on the theater of Cervantes responds to the spirit that the founder of Spanish Comparatism Claudio Guillén manifested with this question addressed to his reader: "If you knew how difficult it is for me to place a Spanish theme exclusively in the sphere of Spain!" Calypso appears eclipsed at the beginning of several Cervantine centenaries."
Taken from The book house.
See also:
http://jesus-g-maestro.blogspot.com.es/2013/12/calipso-eclipsada.html
http://www.anagnorisis.es/pdfs/n8/Resena.AdrianJSaez.(154-159)n8.pdf
http://www.janusdigital.es/articulo.htm?id=26
The recommended titles are in the Library of the International Institute. If you are interested in having access to them, you can check their availability in the catalog of the library
Calypso eclipsed [Printed text] : Cervantes' theater beyond literature / Jesús G. Maestro. — Madrid: Verbum, 2013.
316 pages ; 20cm — (Verbum essay).
Bibliography: p. 299-316.
DL M 16543-2013. — ISBN 978-84-7962-899-4
PQ 6325.Z5 M34 2013
R. 201165750