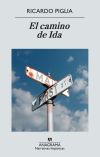 Posted: 6 March, 2014
Comments: No comments
Sixth reading of the 2013-2014 cycle of the Library's Literary Circle
Participate by reading the recommended book and attending the colloquium that is usually held on the last Thursday of each month. Session led by Jacqueline Cruz, Ph.D.
Cycle "Representations of American society in foreign literatures"
Free and free admission with prior registration at library@iie.es
Book of the month: "The way to go" by Ricardo Piglia
"Emilio Renzi, a regular character in other novels by Ricardo Piglia, has arrived at the campus of a prestigious university in New Jersey to give a seminar on the Argentine years of WH Hudson. He was invited by the director of the department, the beautiful and bellicose Ida Brown. Renzi has just gotten divorced and imagines that the trip will help him put things in perspective; the distance and the stay in a strange place, where they barely know him, may return the lost thread of his life. But that plan falls apart just upstairs."
Taken from fnac.
Colloquium: Thursday, March 27 at 19:30 p.m.
See also:
http://www.anagrama-ed.es/titulo/NH_517