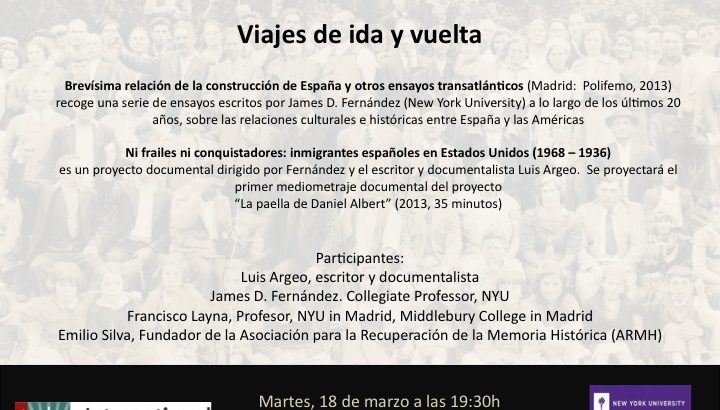 Posted: 11 March, 2014
Comments: No comments
"Round trips": presentation of the new book and documentary project by James D. Fernández
Next Tuesday, March 18 at 19:30 p.m. In the International Institute under the name of "Round Trips" will take place the presentation and dissemination of a new book and documentary project by James D. Fernández (New York University).
The book "Brief relationship of the construction of Spain and other transatlantic essays" (Madrid: Polifemo, 2013) collects a series of essays written by James D. Fernández over the last 20 years on the cultural and historical relations between Spain and the Americas.
The documentary "Neither friars nor conquerors: Spanish immigrants in the United States (1968-1936)" is a documentary project directed by Fernández and the writer and documentary filmmaker Luis Argeo. The first medium-length documentary of the project "Daniel Albert's paella" (2013. 35 minutes) will be screened.
They will participate in the event:
Luis Argeo, writer and documentalist.
James D. Fernandez. Collegiate Professor, NYU.
Francisco Layna, Professor, NYU in Madrid, Middlebury College in Madrid.
Emilio Silva, Founder of the Association for the Recovery of Historical Memory (ARMH).
Access is free until full capacity.
The event has been organized by the International Institute in collaboration with New York University in Madrid.
See also:
http://jamesdanielfernandez.wordpress.com/