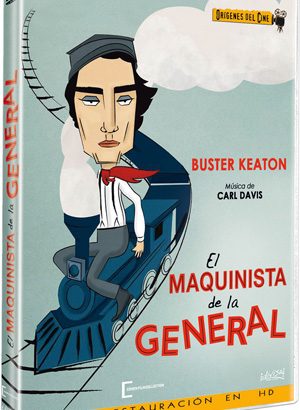 Posted: 20 March, 2014
Comments: No comments
The favorite movies of library users
"The General's Machinist" directed by Buster Keaton and Clyde Bruckman
"Johnny Gray (Buster Keaton) is a train driver in a southern state with two great loves: a girl (Anabelle Lee) and an engine (The General). In 1861, at the outbreak of the Civil War, Johnny tries to enlist, but the army believes that he will be more useful working in the rear. However, Anabelle believes that he is a coward and rejects him. The engineer will only be able to demonstrate his true value when a Nordist commando infiltrated in the Confederate lines steals "La General" from him and kidnaps Anabelle."
Taken from filmaffinity.
See also:
http://www.diariodecine.es/ssdvd319.html
http://es.wikipedia.org/wiki/El_maquinista_de_La_General
http://miradas.net/2011/10/estudios/el-maquinista-de-la-general.html
The selected titles are a sample of the recently loaned International Institute Library materials.
If you are interested in this work, you can check its availability at IIE library catalog.
The MACHINIST of The General [DVD] / director: Buster Keaton, Clyde Bruckman. The Man from Utah / Director: Robert N. Bradbury. Little Lord Fauntleroy / director: John Cromwell. — [Madrid]: Círculo Media Direct, SL.
1 DVD (76, 52, 102 min.) : son., bl. and n. — (Cinema gems. family; 30).
Three movies on one DVD. - Spanish Language. — 1st film: Buster Keaton, Marion Mack, Glen Cavender — 2nd film: John Wayne, Polly Ann Young, George Hayes — 3rd film: Freddie Bartholomew, Dolores Costello.
DL M-40316-2008
ZW .K42 G4618 1927
R. 95599000