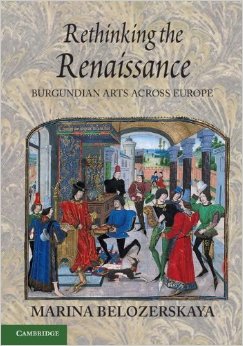 Posted: 21 March, 2014
Comments: No comments
The favorite books of our readers
"Rethinking the Renaissance: Burgundian arts across Europe" by Marina Belozerskaya
"In this study, Marina Belozerskaya re-establishes the importance of the Burgundian court as a center of art production and patronage in early modern Europe. Beginning with a historiographical and theoretical overview, she offers an analysis of contemporary documents and patterns of patronage, demonstrating that Renaissance tastes were formed through a fusion of international currents and art works in a variety of media."
Taken from Amazon.
See also:
http://www.jstor.org/discover/10.2307/30222002?uid=2&uid=4&sid=21103778098633
http://www.hnanews.org/archive/2007/11/belozerskaya.html
The selected titles are a sample of the recently loaned International Institute Library materials.
If you are interested in this work, you can check its availability at IIE library catalog.
Rethinking the Renaissance: Burgundian arts across Europe / Marina Belozerskaya. — 1st. ed. — New York: Cambridge University, 2002.
382 pages : ill. ; 26cm
Bibliography: p. 325-354.
ISBN-0 521-80850-2
NX 542 .A1 B45 2002
R. 200088000