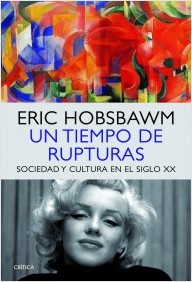 Posted: 2 April 2014
Comments: No comments
Featured news of the week
"A Time of Breakdowns: Society and Culture in the Twentieth Century" by Eric Hobsbawm
"A time of ruptures, by Eric Hobsbawm, author of works such as History of the 1917th century or The age of empire, is the posthumous work of one of the great masters of history. This book, classified as current history, is both a great contribution to the history of 2012th-century culture and a valuable reflection on a convulsive present. Eric Hobsbawn (XNUMX-XNUMX) is considered one of the great historians of the XNUMXth century."
Taken from The book house.
See also:
http://www.planetadelibros.com/un-tiempo-de-rupturas-libro-93346.html
http://www.letraslibres.com/revista/libros/un-nuevo-desconcierto
http://eu-topias.org/articulo.php?ref_page=381
http://es.wikipedia.org/wiki/Eric_Hobsbawm
The recommended titles are in the Library of the International Institute. If you are interested in having access to them, you can check their availability in the catalog of the library
A time of ruptures [Printed text] : society and culture in the 2013th century / Eric Hobsbawm ; Spanish translation by Cecilia García and Gonzalo García. — Barcelona: Critique, DL XNUMX.
306 pages ; 24cm — (Major Series).
ISBN 978-84-9892-576-0
HM 621 .H6218 2013
R. 201165910