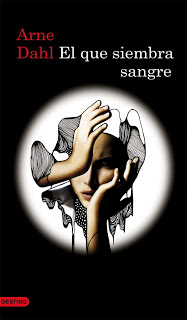 Posted: 3 April 2014
Comments: No comments
Seventh reading of the 2013-2014 cycle of the Library's Literary Circle
Participate by reading the recommended book and attending the colloquium that is usually held on the last Thursday of each month. Session led by Jacqueline Cruz, Ph.D.
Cycle "Representations of American society in foreign literatures"
Free and free admission with prior registration at library@iie.es
Book of the Month: "He Who Sows Blood" by Arne Dahl
"A year has passed since the constitution of Group A, the special unit for the resolution of violent crimes of an international nature to which Paul Hjelm belongs, and the lack of cases suited to his objectives and skills means that Swedish police circles begin to question the need for such a specialized unit to remain active. As if answering their prayers, Group A receives a notice: a serial killer has killed a man through a macabre ritual at Newark airport, in New York, and is traveling with his ticket to Stockholm. They don't know his name or what he looks like."
Taken from The book house.
Colloquium: Thursday, April 24 at 19:30 p.m.
See also: