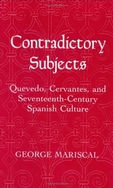 Posted: 28 April 2014
Comments: No comments
The favorite books of our readers
"Contradictory subjects: Quevedo, Cervantes and seventeenth-century Spanish culture" by George Mariscal
"This ambitious book attempts to rehistoricize the Golden Age of Spain (ca. 1550-1680) by placing literary production in its socio-cultural context. Drawing on theories of cultural materialism and making use of historical analysis, George Mariscal focuses on the ways in which the problem of subjectivity is constructed in the writing of the period, particularly the poetry of Francisco de Quevedo and Cervantes' Don Quixote."
Taken from Amazon.
See also:
http://www.cornellpress.cornell.edu/book/?GCOI=80140100369120
http://users.ipfw.edu/jehle/cervante/csa/artics92/parr.htm
http://cilas.ucsd.edu/_files/faculty-cvs/mariscal_jorge.pdf
The selected titles are a sample of the recently loaned International Institute Library materials.
If you are interested in this work, you can check its availability at IIE library catalog.
Contradictory subjects: Quevedo, Cervantes and seventeenth-century Spanish culture / George Mariscal. —Ithaca, NY: University Press, 1991.
XIII, 227; 22cm
Bibliography: p. 213-223.
ISBN-0 8014-2604-9
PQ 6424 .Z5 M28 1991
R. 72255000